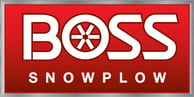 The forecast calls for snow! You've been waiting for this all year. Finally, your city is in the path of the storm.
Here are a few tips to help ensure that your equipment is ready for battle:
Check Your Vehicle
Whether plowing with a BOSS pickup truck plow, a BOSS UTV plow or a BOSS Box Plow, knowing that your vehicle is in running order will ensure that you are successful this winter:
Check your snow plow vehicle's tire pressure.
Check all fluid levels including engine oil, brake fluid, transmission fluid, radiator coolant and windshield washer fluid.
Check oil pressure, your engine will work hard this winter – oil is its lifeblood!
Make sure the battery is working properly and that terminals are tightly connected with no corrosion.
Check the condition of your wipers – operating your BOSS Snowplow with poorly operating windshield wipers is asking for problems. While you're at it, make sure you defrosting system is working on snowplow truck as well!
Check the vehicle's headlights, brake lights and turn signals to ensure they are all in working order – visibility is crucial both to you and drivers around you.
Never venture out without an adequate fuel supply.
Check Your BOSS Plow
You've checked your snowplow vehicle, now make sure your BOSS Snowplow is ready to go as well:
Make sure that all bolts on your snowplow are tight and well fastened.
Look for cracked welds and hydraulic fluid leaks.
Make sure the plow lights and turn signals are aligned properly and are in good working order.
Carry a few extras – keep a BOSS Snowplow Emergency Parts Kit handy that includes extra hydraulic fluid, hydraulic hoses, a pump solenoid, extra cutting-edge bolts and a trip spring.
If you notice that you are in need of service or parts, call or visit your nearest BOSS Snowplow Dealer or visit ShopBOSS. If you need help locating your nearest dealer, simply visit bossplow.com and either use the Dealer locator, or feel free to use the Chat button to chat on-line with a BOSS Snowplow factory representative.
Remember, if you need us, we'll be there to get you back up and running. Many BOSS Snowplow dealers feature 24-hour service during big snow events. At the BOSS Snowplow Headquarters you can call us with questions, talk to our Technical Service department, send us an email or chat online with us. If for some reason we can't speak with you right away, leave a message, and we'll get back to you quickly!
by Katie Roell